1/29
I was really tired after dancing the night out on the day before, but I managed to wake myself up and attend the first committee session on this day from 10am. But when I got to the conference room, I noticed that a lot of the delegates were absent... Maybe they were too tired from partying last night... I guess some ppl just came here to enjoy all the bars and dancing...
The session went on as it did the day before, with ppl speaking in front of the committee most of the time and occasionally having informal interactions during short period sessions called "unmoderated caucus". We started seeing many resolutions being written up by some parties but there was too much quarreling over minor issues. So we were still discussng the first topic of urbanization... I was pretty sure at this point that we would never get over all the 3 topics during this entire conference... Somehow we had to move on though...
The problem for me was that since I was really tired from last night, I wasn't as motivated as the day before to participate in the committee... This lack of commitment was also probably due the fact that I wasn't really interested in the topics that were to be covered in our committee (SOCHUM)... I would rather be thinking about issues like international security or aid toward developing countries. Then you might be asking: "Then why did you choose to be in your committee?"... Well, the reason I chose this committee representing such a small country like Bhutan is cuz this was my first time attending the model UN and since I didn't have a clue at first how things went on at the conference, I didn't want to be responsible for being assigned to a committee that discussed substansive issues... So that is why I chose a committee that was regarded as the "minor and easy" committees.
Well, but at least I finally managed to be courageous enough to speak out in front of the big committee. Though what I said was not really something that captured the core of discussion, I was just satisfied that I was able to gain such an experience. Self satisfication might not be so important but it does give you some kind of motivation and relief... I was just satisfied, what's bad about that?
On this day, we had two sessions and finally managed to move on to the next topic which was "women's role in economic development". Although we had more than 10 draft resolutions submitted, only 2 passed with a majority.... What was all that discussing for???
Don't we look like business men?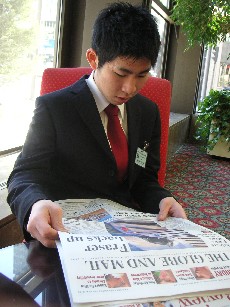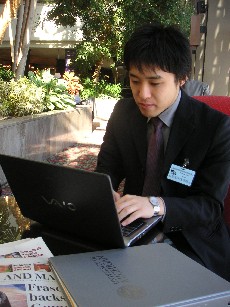 Anyways, we were finally over with the second day of committee sessions and it was time for night life again:) On this day, all the delegates headed to a party called McParte, where we had one whole club floor to use for ourselves! So off we went as we did the day before riding a bus to where the party took place. The place we went to was actually a part of a gay bar/club and it was interesting seeing all the gay ppl on the first floor when heading up to the floor where our party was going to take place... I thought gay ppl were way better than straight men at dancing, am I not wrong?
It was a huge party, although not so much exciting as the day before, partly due to the lack of alcohol for myself and also to the fact that the dj and the music was rather stinky compared to the club we went the day before. But I danced with all the other Michigan members anyways, and I guess I had fun. One thing to note was that Keisuke got hooked up with a few girls (not one but a FEW) and was reported to be seen making out with one of them lol No wonder he was awarded the Michigan "In da Club award" in an informal award event on the way back to Ann Arbor, haha.
Man, so how could I have ever imagined that I would go clubbing two straight days on a trip to attend the model UN conference?.... Well, let's face it, I had tons of fun. So maybe we should just party our time out occasionally.
Just like the day before, the sleeping time was past 4am in the morning. We had one last committee session to go on the next day...