4/14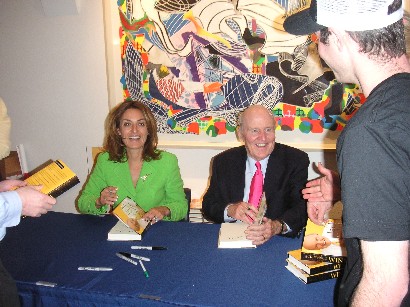 Even though I am not so busy with school work, there are so many things going on this week. Today, I skipped all my afternoon classes (I even asked for permission to skip my last class cuz I met my teacher in the b-school lounge) to attend the lecture by Jack Welch with Miyako.
As many of you should know, Jack Welch is a former CEO of GE (General Electrics), which is a company that is so diversified that the business porfolio ranges from producing jet engines, plastics to offering financial services, insurance, etc. Jack Welch served as CEO of GE for 13 years and after leaving GE, he still works as a consultant for many CEOs in the corporate world and also goes around schools and companies to talk about his life and business.
There were tons of b-school students in the room where the lecture was held, mostly MBA students, and many were really eager to meet him and ask him questions. The lecture was based on his new released book titled "Winning" which was co-authored by Jack's wife, who used to be an editor at HBR (Harvard Business Review). They were selling this book in front of the room, so without any hesitation, I bought it, hoping to get him to sign the book after the lecture. The coolest thing about the selling of this book was that the CEO of Borders was here and was selling it for a 30% discount price. BTW, Borders bookstore is headquartered here in AA and the bookstore in campus was the first ever Borders store!!
I guess I'll jot down some implications I got from Jack's lecture which could help me in my future career:
-Work in a place where you feel comfortable. If you are not feeling good about your work, you might as well quit right away. Don't try to force yourself to fit with the firm, go to a firm that fits you from the beginning.
-If you end up working in a managerial position, the most important thing is the PEOPLE in your team or organization. HR is the most crucial position in a firm. (I thought this reflected GE's philosophy of focusing on the development of its people. I recall watching a TV program back in Japan about a traning program in a GE which was really intensive and costly.)
-The most cruel thing for a manager to do is letting a worker who does not match the culture of the firm and is unproductive stay in the firm out of sympathy. There are times when you really have to tell your employees that it's time to leave. But when you do, you have to let the other employees know "WHY he was fired" so as to emphasize the corporate culture and motivate other employees not to violate the basic rules of the firm.
I ended up getting my book signed by Jack and his wife after the lecture (waited for about an hour in line...) so I was so happy!!! The two of them were such nice ppl, cuz they asked us where we were from and told us that their children loved Tokyo and wanted to live there in the future!
So now, I have attended a lecture by Michael Moore, Noam Chomsky, and Jack Welch, all of whom are so famous around the world... U of M sugoiyo!!!!