6/11-12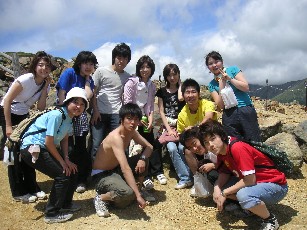 I had a chance to go to Nasu with a bunch of my Japanese AIESEC friends last weekend. We rented 2 cars and went with a total of 14 ppl. It was so fun!!
Since Japan has already gone into rainy season (梅雨) we were really worried about the rain. Unfortunately, it rained pretty hard on the first day, so all we did was walk through a small gorge that was surrounded by woods and go to a nice onsen. Then at night we were planning to have a BBQ party, but since we couldn't due to weather problems, we made gyoza and yakiniku. It was so delicious!!! And of course we had TONS of alcohol to drink, haha. We all got drunk and played silly games.
On the second day, we climbed up a little mountain called Asahidake. It turned out to be a BEAUTIFUL day on this day (and I really mean it!) so the view during our hike up was magnificient!! Chou kandou shita!!
Then we went to an onsen called Oomaru onsen, and this place was awesome as well. The onsen constituted a part of a small creek, so the outdoor hot spring bath was soooo nice! I loved it:)
Here are the
pics that I took during this trip
.
ENJOY!!